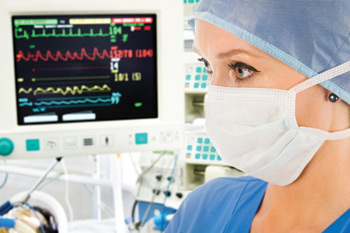 With more than 14 million workers and hundreds of thousands of industry participants, health care is one of the largest industries in the United States, as well as one of the most diverse in composition. Firms in the health care industry range from the small-town dentist who's seen the teeth of nearly every resident in the community with the help of only one employee, to the world-renowned pediatric hospital with hundreds of beds and more than 1,000 pediatric specialists on staff providing care to children across the world.
Occupations in the health care industry are just as diverse. Those in the health care profession work as doctors, dentists, surgeons, registered nurses, medical assistants, paramedics and radiologic technologists, to name a few.
Who's right for a job in the health care field? In its Occupational Outlook Handbook, 2008-2009 Edition, the U.S. Bureau of Labor Statistics (BLS) said, "Persons considering careers in the health care field should have a strong desire to help others, genuine concern for the welfare of patients and clients, and an ability to deal with people of diverse backgrounds in stressful situations."
How Many People Work in the Health Care Industry?
According to the latest-available information compiled by the BLS, the health care industry employs 13.6 million wage-and salary workers and two million selfemployed and unpaid family workers, for a total of more than 14 million workers. There are more than two million registered nurses in the United States; 96,000 dentists; 468,000 physicians and surgeons; and 141,000 physical therapists. There are millions more service occupations, as well as office and administrative support occupations.
According to the BLS' Employment Situation Summary for August 2009, employment in the health care field continued to climb in August (up 28,000 jobs), with growth in ambulatory care and nursing and residential care pacing employment gains in the market. The BLS further noted that employment in hospitals was little changed as of that same month.
Since the onset of the recession, the health care field has added some 544,000 jobs. By contrast, employment in the financial services industry has decreased a staggering 537,000, and the construction market has lost 1.4 million jobs.
Where Do Employees in the Health Care Industry Work?
Health care employees work in a myriad of settings such as hospitals, nursing homes, physicians' offices, laboratories and outpatient care centers. According to the BLS, approximately 580,000 establishments make up the health care industry. The BLS further noted that more than three-fourths of health care establishments are doctors' offices, dentists' offices and other health practitioners. Hospitals make up just one percent of all health care establishments, though they employ 35 percent of all workers in the health care field.
Health care establishments are typically small firms. According to the latest BLS statistics, more than 85 percent of nonhospital establishments in the health care sector employ fewer than 20 workers. In fact, nearly half employ fewer than five workers. Hospitals naturally have large workforces. Seven out of 10 hospital employees were employed by establishments that had more than 1,000 workers, states the BLS.
What Kind of Occupations Are Available in the Health Care Industry?
There are numerous occupations in the health care industry for people of all education levels. Some health care occupations such as physicians, surgeons, dentists, nurses and physical therapists require specialized education and extensive training. However, for those who want to work in the health care field as a nursing aide, a dental assistant or medical assistant, little or no specialized education or training is necessary. People who desire to be dental hygienists and health information technicians, for example, usually attend training programs of one to two years. Other occupations in the health care industry include emergency medical technicians and paramedics, social workers, radiologic technologists and medical transcriptionists.
How Much Do Workers in the Health Care Industry Make?
Average earnings in the health care field vary widely and depend on the occupation and the level of education and training an individual has. According to government labor information, average earnings of non-management positions in most health care sectors are higher than the average for all private industries, combined. On average, workers in the health care industry earn an hourly wage of $18.73, working an average of 33.3 hours per week. Registered nurses' average annual wage is well above average. They make $27.54 an hour, and nurses working in hospitals make slightly more at just over $28 per hour.
Health care workers in hospitals typically earn the highest salaries, as the percentage of jobs requiring higher levels of education and training is greater than in other health care sectors, states the BLS. Those in nursing and residential care facilities and home health care services typically earn the lowest wages, as many work part-time hours.