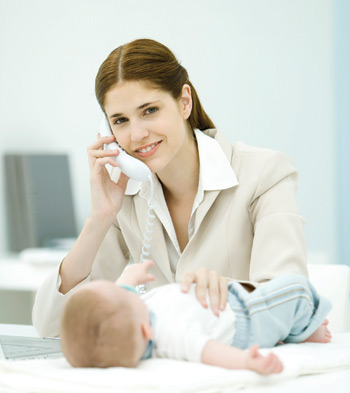 Finding the proper balance between work and family
Are you a mother who has a full-time job? If so, you're part of a very large and growing group of women who have jobs outside the home.
If all mothers stopped working tomorrow, 26 million jobs would become vacant overnight. That's equivalent to the total state population of Minnesota, Colorado, Alabama, South Carolina, Louisiana and New Mexico—combined!
From driving the kids to school, to late-night feedings, to bedtime stories, and everything in between, more and more mothers are tackling the traditional roles of raising children and managing family life while maintaining jobs outside of the home.
Women and the labor force
Today, women make up almost one-half of the labor force in the United States. This number is up from 38 percent in 1970. According to the Pew Research Center, the number of women with jobs has grown steadily since the 1950s, peaking in 2000.
A Pew Social and Demographic Trends nationwide survey found that the public approves of this trend. The survey said 75 percent of Americans disapprove of the idea of women returning to their traditional roles in society, and the majority think both parents should contribute to the household income.
But according to the Pew Research Center, the changing role of women in society has come with a cost for many women. Working mothers of young children, in particular, feel the tug of family responsibility much more intensely than do working fathers, the social and demographics survey said.
According to the U.S. Bureau of Labor Statistics (BLS), 71 percent of American women with children under age 18—77 percent of women with children ages six to 17, 64 percent of women with children under age six and 56 percent of women with infants (under age one)—are in the workforce. Back in 1976, less than 40 percent of women with a child over the age of one had a job.
Working mothers make great contributions to household incomes
With millions of mothers in the workforce, one can imagine their monetary contribution to household income is also great.
According to the BLS, working mothers contribute $476 billion, as a whole, to U.S. household incomes. Also, among married-couple families where both the wife and the husband work, about one-fifth of the wives earn more than their husbands.
Cathy Greenberg and Barrett Avigdor interviewed and surveyed more than 1,000 women for their book entitled "What Happy Working Mothers Know." About 80 percent of the women surveyed for the book said they contribute 40 percent or more to their household income.
According to the Center for American Progress, mothers are now making as much or more than their spouse or doing it all on their own in nearly four in 10 families.
It's clear that working mothers make invaluable contributions to their families, household income or otherwise. But let's not forget about stay-at-home mothers who also make important contributions to their homes, as well.
A 2006 Salary.com survey determined that a stay-at-home mother might be paid as much as $134,121 for her various contributions to the home (see table), compared to an annual paycheck of $85,876 for a working mother.
How are children affected by a mother's decision to work?
According to the American Pediatrics Academy (APA), no scientific evidence indicates children are harmed when their mothers work. The APA says, "A child's development is influenced more by the emotional health of the family, how the family feels about the mother's working, and the quality of child care. A child who is emotionally well adjusted, well loved, and well cared for will thrive regardless of whether the mother works outside the home."
The APA further says, "A mother who successfully manages both an outside job and parenthood provides a role model for her child."
Researchers at the University of Texas at Austin conducted a study that evaluated time use, the home environment, maternal bonding and other characteristics for 1,053 mothers with babies across the United States.
The study concluded that when mothers spend time away from home at a job or school, their infants' development doesn't suffer.
The researchers concluded that mothers' personalities, beliefs and circumstances influenced the quality of parenting, overshadowing the influence of the sheer amount of time spent with their children. The study's director said the amount of time a mother spends with her baby isn't as important as what she brings to the mother-child relationship.
"Best places" for working mothers
Working Mother magazine puts out a list of the 100 best companies for working mothers. According to the magazine, despite the layoffs, cutbacks and the general economic maladies the nation is facing, these family-friendly companies continue to spend on health care, child care and work/life benefits. Of the 100 companies identified by the magazine:
100 percent of them offer telecommuting and flextime schedules.
98 percent offer job-sharing.
94 percent offer compressed workweeks.
86 percent provide backup care.
62 percent provide sick-child care.
Companies that made Working Mother's 2009 list include Johnson & Johnson, Allstate Insurance, Deloitte, Procter & Gamble, PricewaterhouseCoopers, HP, JPMorgan Chase, Hallmark Cards, IBM, American Express and Bank of America.
How to make being a working mom work
It's quite a juggling act to be a working mother. It's something that requires discipline, organization and a lot of help. The Web site www.mommyplace.com provides numerous tips about how to make being a working mother work.
Invest in a good childcare solution.
Make use of every minute, but also follow tip number three.
Take at least 30 minutes each day to either veg out or take a nap.
Readjust your expectations on what needs to get done.
Prioritize what's important to you.
Hire help if you can.
Talk to your company/manager about flexibility.
Always make sure your employer feels they are winning.
Get some exercise.
Take time to do what you like.
Don't forget your marriage/relation ship.
Accept your decision to work.
Make friends with other working moms.