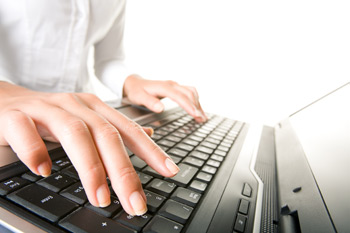 "I have a Web site that looks great, but I'm not showing up in Google. How do I get listed in the search results?"
To this day, the most common question I receive from small business owners is, "How do I get listed in the Google search results?" For small business owners, confusion abounds regarding what do to about this issue. While reviewing Web sites, I have noticed that many contain common factors preventing them from being properly categorized and listed by the search engines. The three most common areas in need of improvement on business Web sites are: Web page titles, keyword optimized content and the number of incoming links. While those common features may be easy to fix, if you do not know what they are or how to fix them, they can be insurmountable.
The Title
Could you imagine if one day all the movie production companies decided to title their movies after their business' names? I imagine the conversation at the ticket booth would go something like this:
Patron: "Yes, I'd like two tickets for…Warner Brothers please."
Ticket Salesman: "Is that the Warner Brothers that starts at 2:00,
2:10, 2:15 or 2:30?"
Patron: "It's the one with the car chase."
Ticket Salesman: "They all have car chases."
Patron: "Oh. Well, it has a lot of explosions as well. Does that help?"
Ticket Salesman: "Not really, sir. Can you be more specific?"
Patron: "The one with the blond actress…?"
You can see how this conversation could go on for quite some time. The same is true when all of your title tags display only your company name. You are telling the search engines that the most relevant thing about your Web site is your company's name. While the branding is nice, if someone is searching for the products or services you provide but doesn't know who you are, it's difficult for the search engines to point them to your site when all you are conveying is your company's name.
So, where is the title of your Web site anyway? Well, the title can be located at the very top of your browser window.
The title for each individual Web page should be unique and should describe what each page is about. It should also contain the main keywords you want searchers to find on that particular page when they conduct a search. Think of the title as being the headline of a newspaper story. Not only does the title of your Web page inform the search engines as to what your page is about, it's also the first thing searchers see when they scan the list of search results. This makes the title of each page even more critical.
The Content
A great title is worthless if it lacks the content to back it up. Yet many sites contain the most bland, generic, non-specific content on every page of the site. The content on each Web page needs to serve a purpose and that purpose is to provide Web searchers whatever it is they are looking for. The best way to do this is to break your site up into pages that provide answers for your visitors.
For example, if you operate an HVAC business, you should have a page on your Web site that describes the services your company provides. This page could also answer the question, "What does ABC HVAC do?" However, the content for your services should not stop there. You should also create a page for each service you provide. For example, if your HVAC company offers duct cleaning services, your site should contain a page focusing specifically on this service. This page should answer any questions a potential customer would have about duct cleaning, such as: How often should you have your ducts cleaned? What are the benefits of regular cleanings? How much does this service cost? If the content is lengthy, it should be divided into several different pages. Personally, I try to keep each page of content for a corporate Web site limited to 300 to 500 words and target those pages to two or three keywords. However, the number of words may vary depending on the type of content you are providing (for example, if articles are displayed on the page, it will contain more than 500 words).
If you are having trouble choosing content for your Web site, a good place to start is by examining your analytics data. If you don't have analytic software installed on your site, try Google Analytics, as it's free and very robust.
In your analytics account, you should be able to determine how individuals find your site and uncover what they were hoping to find. It helps to view the pages your visitors arrived from by looking at the content of those pages and determining what would cause them to click on your site. Sometimes, the link to your site may be housed in a comment made on an article or blog post. Based on this information, you should be able to determine what a visitor was hoping to find. If the page on your site doesn't address the content on the site it was linked from, you can create a new page based on a topic that does address it. You can also find topics for new content on your site by viewing the search engine visits listed in your analytics account. You will be provided a list of keywords that individuals searched for to land on your pages, in addition to where these individuals landed on your site. From here, you can determine if your pages provided what searchers were seeking. If your pages didn't provide the information being sought, you now have a new content topic to add to your Web site.
The Links
Another factor that will prevent your Web site from being found and listed by the search engines is a lack of links pointing to your Web pages. Basically, the more links you have, the better your chances are of being listed in the search results. Large and powerful sites have tens or even hundreds of thousands of links to their pages.
The good news is that your competitors likely don't have tens or hundreds of thousands of links to their Web pages. But how many links do they have? Well, not only can you get an idea of how many links they have, but you can also find out which sites those links are coming from.
By using a special search in the Yahoo! search engine, you can retrieve a list of the Web sites that link to any other Web site. Type the following in the Yahoo! search box: linkdomain:example.com (example.com is the Web site you want to retrieve the linking information for). Click on the button that says "inlinks" and narrow the list down by choosing "except from this domain" in the "show inlinks" dropdown list. You will then have a list of Web pages that link to your competitor's site.
With this list, you can find ways to get these Web sites to link to your site, as well as your competitor's site. Matching the inbound links of your competitor's Web site, in addition to modifying your title tags and content, will greatly improve your chances of not only appearing in the search results, but also beating out your competition.
However, what if your competitor has also optimized his or her Web site content and page titles for keywords? If you have quality, relevant content and you manage to acquire every link your competitor has, it still may not be enough to beat them in the search listings. Instead, try to find other relevant places to acquire links.
Commenting on blogs is a great way to acquire links to your Web site, but make sure this is done in an appropriate manner. No one likes spam, least of all those who operate blogs. To keep your blog presence appropriate, make sure any comment you submit to a blog is relevant to either the blog itself or a previous post. For example, those who read blogs about cosmetics will most likely not be interested in the socket set you recently purchased. This brings me to another point—it is best to make comments on blogs that are relevant to your business' operations. If you own an HVAC business, commenting on a blog post from a homeowner complaining about changing the air filters in his or her furnace would be an excellent place to make a comment, but make sure you make the right comment. If you make a vague or generic comment it could be flagged as spam by the individual maintaining the blog. Therefore, make sure your comment directly relates to the subject matter of the blog post. Finally, don't forget to include the link to your Web site. Most blogs have a field that allows you to insert the name of your Web site when making a comment. Keep in mind that whatever you insert in the name field will be the anchor text of the link to your Web site, so make sure it's relevant to your business.
You can also utilize forums to acquire links to your Web site. Generally, forums will allow you to add a link in your profile that directs people to your site. As with blogs, stick to forums that discuss a topic relevant to your business and don't make generic or unrelated comments.
Conclusion
Most small business owners cannot afford to hire a team of professional Web marketers to overhaul their Web sites, and many times, when owners attempt to revamp their sites themselves, they leave out valuable information needed by both visitors and the search engines. Though, if implemented properly, small changes can make a noticeable difference in your site's search engine visibility and in the usefulness of your site to visitors. Specifically focusing the title and content of each Web page to a narrow purpose, centered on keywords relevant to your business and its services, is a necessary start. Then, draw attention to your newly clarified Web site by linking to other sites related to your business. Links are one of the best ways to gain the attention of search engines and gaining the attention of search engines is one of the best ways to gain attention from customers. Focusing on titles, content and links can provide an under-performing Web site the jump-start it needs. In many cases, this is all that is necessary to nudge your business ahead of the competition in the online marketing race.