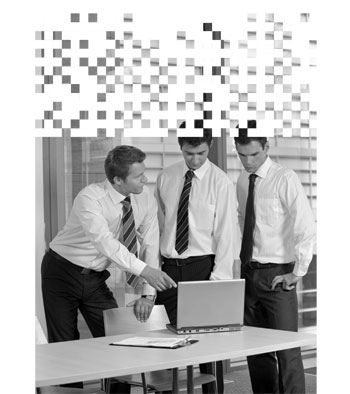 How to create an effective Web site
The Internet is one of the greatest marketing resources for a business, no matter how small or big a company is. There are endless possibilities when it comes to how a Web site can serve your business and how you want it to function. Whether you are hiring a professional Web designer or creating your own site, it must be effective or else, why have one? The following includes tips to create an effective Web site that will help benefit your business.
Do your research
Research is crucial, regardless of whether you are building your company Web site yourself or hiring a professional. According to Bill Cullifer, the executive director of World Organization of Webmasters (WOW), it is helpful to maintain a solid relationship with your Web professional so they understand your business and how to communicate your business' objectives effectively online to potential and existing customers. Determining where you want to host your Web site varies depending on how much you are willing to invest in the site and the amenities you would like included. Web sites such as www.findmyhosting.com and www.webhostingsearch.com will provide you with the top Web hosting plans for your business that are cost effective, reliable and designed specifically for small- to medium-sized businesses. Each host offers unique features, such as a free domain name, setup or data transfer, so prioritize which elements are imperative to you and choose your desired hosting site from there.
Content management systems
The content management system (CMS) is the foundation of the Web site. Once you know how you want the Web site to function and where to host it, you must choose a CMS that will support those amenities. Scalability is important when considering the CMS. Scalability is a technical term for a Web site's ability to handle the increase in volume and add-on features. Many content management systems have add-ons or plug-ins for mobile and social media applications, which have been increasingly popular, so featuring an add-on to the company's Facebook or LinkedIn page may prove to be beneficial.
According to the Pew Research Center, although social networking sites are still primarily used among younger adults, older generations have seen the most dramatic growth in using social media sites. Specifically, social media usage among 46- to 55-year-olds has grown 30 percent over the past two years. Again, doing your research will pay off when it comes to this step in creating the Web site, as you do not want to invest in a CMS that is not fully functional. Also, consider the ability to customize your pages. Some systems are not flexible when it comes to how content is presented. Choosing a CMS that allows user interaction will be an added feature to your Web site that will make it stand out from the pack. If you would like to gather user feedback, comments, ratings or host forums, your CMS must be able to provide that functionality or allow a third-party plug-in to provide it.
Call to action
According to Cullifer, communicating with your online audience and sending a clear message is a fundamental aspect to consider when gaining new business—you do not want to confuse your online audience by ineffectively communicating your business' specialty. You want your Web site's visitors to become new customers, so it is important to think of the message you want to send and what kind of clientele you want to drive toward your business. Include the company's logo, services and a section dedicated to explaining what your company is all about, for instance. Does your Web site enable clientele to buy products or services online? This is a significant portion of Internet activity, according to a Pew Research Center Internet survey illustrating that more than 50 percent of all age groups buy products online. If there is an online store, it may be helpful to provide Internet users in-depth information on products, photos and any offered warranties.
Visual appeal
With a reported two million Web sites being created each month, according to .orgSource, a Web site and e-communications firm, you want to distinguish your site from your competition and maintain a design that works for your business operations. "Common mistakes are inappropriate graphics, taking too long to navigate, a convoluted message…a good way to put it is, design for your audience," Culllifer says.
According to the Usability Professionals' Association, your design phase should include steps such as brainstorming design concepts, developing a navigation model, conducting walk throughs for design concepts and documenting standards and guidelines for the design. Depending on what line of business you are in, you may want to err on the safe side when it comes to creativity and color, as you don't want your company's site to appear non-professional.
Also, take the various browsers into consideration when designing your Web site. The most dominant browser on the Internet today is Microsoft's Internet Explorer, according to StatCounter, a Web counter service. Following Microsoft's Internet Explorer are Mozilla's Firefox and Google Chrome. According to Digital Web Magazine, there are specific Websafe colors and fonts that are currently popular. In order for a font or color to appear correctly in a browser, the color or font must be available on the user's computer. To eliminate the guessing game, there are combinations of fonts that relate to the system fonts found on all computers. Utilizing those combinations reassure that the information will be displayed as intended. Following are the most common font combinations, according to Digital Web Magazine:
Arial, Helvetica, sans-serif
Times New Roman, Times, serif
Courier New, Courier, mono
Georgia, Times New Roman, Times, serif
Verdana, Arial, Helvetica, sans-serif
Geneva, Arial, Helvetica, sans-serif
Maintenance
Once you've created your masterpiece, it is just as important to maintain it, especially if the company has changed its focus in operations, added new services or no longer provides certain services. One of the benefits of operating a Web site as part of the company's marketing strategy is that it produces measurable success in performance. Software such as Google Analytics and Yahoo! Web Analytics enable you to see how much traffic your Web site is getting in comparison to your competitors and how effective your Web site is overall. Updating your Web site and adding new content will motivate previous visitors to continue visiting the site. Additionally, updating features such as the site's pages and creating new content will help you maintain or improve your standing with your clientele's top search engine results.
Spending a considerable amount of time and money on a Web site may not be one of your top priorities; however, it can be one of the most effective marketing strategies for your business. The Internet is accessible on a global scale and gives your business the opportunity to expand and focus on new markets. Though, it all depends on the amount of time and effort you put into the Web site that drives its success. "If you think of a site as a strategic asset rather than an expense, you'll benefit more from it overall," Cullifer says.