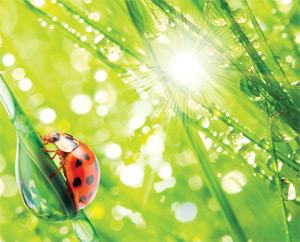 Paying attention to the environment demonstrates good stewardship and translates into good business. Companies touting their planet preservation accomplishments via marketing messages benefit from positive publicity, while saving corporate money.
Though Earth Day was officially celebrated in April, many savvy companies are applying "green" tactics every day in an effort to save money and enhance their appeal to environmentally conscious consumers. "Green marketing" is, in fact, a concept popular with those businesses already making an effort to be careful with corporate resources.
Consider, for a moment, a customer choosing between two product brands on the shelf. The one wrapped in packaging highlighting the parent organization's steps to minimize its carbon footprint will likely garner an advantage. A recent research study by the Persuadable Research Corporation shows that while approximately 10 percent of consumers purchase only green products, a whopping additional 76 percent of consumers would consider purchasing green products if the costs were similar.
The key word to note in those statistical results is "similar." It's a common shopper assumption that environmentally friendly products must logically be more expensive. Greater attention to ingredients or some other similar effort, after all, is routinely necessary when earth-conscious offerings are developed. The trick to price-point success, however, seems to be creating greener offerings, while keeping production costs in check.
Once an eco-friendly product is created and placed on the shelf, organizations can continue to demonstrate their commitment to the environment in ways beyond product creation and packaging. Highlighting a corporation's day-to-day use of green technologies, for example, can also garner a positive response from customers.
Consider e-mail updates. No one likes spam in their inbox, of course. But if the effort is used appropriately, any organization can legitimately argue they are effectively staying connected with regular customers using a method that doesn't consume trees, as would the printing of traditional brochures.
Other earth-friendly office contributions can take surprisingly little effort for business managers, while continuing to save companies noticeable amounts of money. Basic suggestions include:
When printing materials are required, use recycled paper. If you can't take this step with all printing, make doing so a priority when it comes to all employee business cards. Note the effort delicately on the back of the cards.
Reward customers when they exhibit green behavior. Offer a 10-percent-off coupon to consumers armed with a receipt or any other proof they contributed to a recent curbside recycling and/or other environmentally responsible event.
Place trash receptacles designated for cans, bottles and paper in your office so office personnel and visitors can easily see and use them.
Want to provide some free giveaways to a worthy local event? Acquire reusable grocery bags or coffee cups highlighting your company's name and/or slogan in a tasteful way.
Think "green thumb." Many organizations send flowers or other gifts to clients for special occasions. Is there an employee with gardening prowess who might be interested in potting aloe vera plants, herbs or other tasteful plants for use as your business' go-to gift instead? A clever accompanying card with a, "We're excited to continue to grow with you as our partner," message can be a personal, clever and subtle demonstration of your continued environmental commitment.
Host an employee Bike to Work Day. Take attractive pictures to post on your Web site showcasing the fun. Invite your clients to consider copying the twowheeled event in the future.
Not ready to take on the tasks outlined above? That's your prerogative. But bear in mind that it's only a matter of time before your competitors jump on the bandwagon with their own environmental efforts and shout it from their rooftops. In many ways, it's better to get ahead in the game and be green—rather than green with envy.