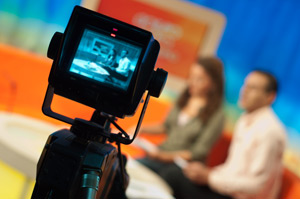 How Small Businesses Can Get Big Media Coverage
Imagine being a struggling small business one day and waking up the next day to find your inbox full of online orders, all because of one very well-placed article or television interview.
That very thing happened to Bee Inspired, a Michigan-based startup that offers gift boxes with handrolled, inspirational messages for mothers, friends, graduates and job seekers. Nearly overnight, after Bee Inspired gift boxes were highlighted in Martha Stewart's Whole Living magazine, the company saw a jump in online sales, social media followers and local news mentions. The company also gained new interest from stores willing to sell its products.
One of the problems facing small business owners is lack of exposure. After all, if people don't know about your product or service, how can you hope to sell it? Don't underestimate the power of national media exposure. It's one of the top ways to generate great PR, but it's also one of the most frustrating. Editors and producers are constantly assaulted with pitches from business owners just like you who want a little piece of the revenue-generating spotlight.
So, what are some efficient, cost effective ways that you can approach earning national media exposure for your brand?
Get on target
The first, and perhaps most important, step before going after that big story is to know exactly who you're targeting. Who's your audience?
Take Bee Inspired, for instance. They had a perfect grasp of their market: professional, forward-thinking women aged 30 to 50. That presents a certain image. Now, let's imagine the kinds of media that are geared toward this age group: women's magazines and daytime talk shows immediately spring to mind.
It's okay to be creative, as well. If your business provides a service and you know everything there is to know about the industry, seek opportunities to speak as an expert. Lending your views to journalists for articles or blogs, or appearing in news segments as an authority, will get your name out there and open up your brand to a whole new audience.
Determine your budget
It's very important for small businesses to budget wisely when it comes to a PR campaign. Keep in mind that it will take time, effort and funds to really make an impact. Be patient and flexible, especially if you're using an in-house employee or attempting to tackle a PR campaign yourself.
If you really want to make a big splash and have a little extra money to invest, you may want to hire a good PR firm. Be sure to shop around for the best rates, ask if they've worked with small businesses before and request to see a portfolio of previous media mentions. Also, give them an outline of your goals. Having a clear understanding of your needs and audience, as well as what you're willing to spend before you enter into a conversation with a PR firm, will save a lot of time—and money—in the long run.
Gather your tools
Now that you've determined a budget and know exactly who will be voicing your message, make sure that everything is in place. If you don't already have them, you'll need a good Web site with contact information and live and active social media pages. What you might not currently have is a press kit.
A press kit is either a print or digital document that includes relevant information about your products and services, company bios, contact information, photos and previous media mentions. Journalists and editors are more likely to use you for a story if they have all of the information they need at their fingertips. Photos of your product and the "face" of your company are also important tools for landing television segments, as producers like to know who they'll be booking for interviews.
Finally, don't forget that a good press release can go a long way. If you have relevant news to share with the world, go ahead and do it! Social media platforms have made it easier for small businesses to post and distribute their company news to a wider audience than ever before.
Practice good PR manners
Before you send one e-mail, you must be able to answer two questions: who are you contacting and what is the angle? Don't send blind e-mails. Get to know publications, what they cover and their editors. Remember that people don't like to read about products—they like to read about people. Giving your brand a name and a story will go a long way.
Media contacts are busy and they're constantly receiving queries about everything under the sun. Let your message stand out by sparking their interest, but remember to be courteous. Don't be a pest—if they're interested in your story, they'll contact you.
Use every opportunity
Keep your eyes and ears open for that next big break. And if you do happen to score a great article in a national publication, use it to your advantage! That's what your Web site, blog, Facebook and Twitter pages are for.
Share your success with local news organizations. They love good news, and they're more likely to cover your story after you've received national recognition. People in your own neighborhood will no doubt be thrilled to hear the news, as well.