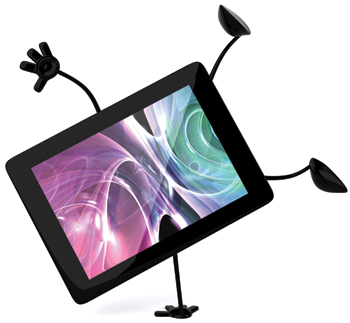 The rise of tablets in recent years has not only been used by consumers playing games like Angry Birds, but tablets are also starting to make their way into classrooms and businesses.
According to a recent report by research firm Techaisle, small- and medium-sized businesses are using nine million tablets in the United States alone. According to another 2010 survey by Techaisle, there was a 20 percent adoption rate of iPads alone in the United States among small businesses with an employee range of one to 99 workers. While tablets seem to be creeping their way into the daily operations of businesses, there are things to consider before handing them out to employees.
Security
According to the IDC iView 2011 Consumerization of IT Study, Closing the Consumerization Gap, sponsored by Unisys, a tablet device will be more important for work purposes and will grow more than any other device type in 2012.
When most people think of tablets, they think of convenience and a kind of new technology they can't wait to get their hands on. However, tablets run several security risks that business owners should be aware of. The probability of the tablet getting lost or stolen increases since it's small and is meant to be taken with you everywhere you go. It's for this reason that IT departments should have the ability to remotely manage and wipe out any data on the tablet.
Another security risk is the company data being accessed through these devices outside of business headquarters. There are many data-sharing services, such as Drop- Box, that enable both consumers and businesses to transfer data to and from a host of devices. Since the whole point of having a tablet is to access information remotely and on-the-go, it's important to download apps from a reputable app store since just about anyone can create their own app these days. Companies also have the ability to create their own app stores to better control which apps employees can download to their devices.
Capabilities
Tablets are lighter to carry around, and the battery life lasts three to five times longer than the traditional Windows-based laptop, and two to three times longer than Mac laptops. Instead of having to wait for a laptop to boot up, someone—such as a sales representative or a consultant—may access any presentation or document with ease. The extended battery life on these tablets enables workers who travel frequently to access their work for longer without having to scurry to the nearest outlet in the middle of the day.
Shopping for a tablet can be quite a daunting task, as there are so many out there. According to Raj Tumber, a SCORE business mentor, knowing what you need the tablet for will dictate what type of tablet is right for you. Android-based tablets, for instance, have limited synchronization capabilities, whereas the iPad backs up all data upon synchronization. Android-based tablets and Apple's iPad operate with different app stores as well. Android-based devices utilize Google's app store and the iPad uses Apple's app store. Though, Android-based tablets have the ability to support Adobe Flash, unlike the iPad, which may be a deciding factor.
According to a study from research firm Strategy Analytics, during the third quarter of last year, worldwide tablet shipments totaled 16.7 million units, of which Apple shipped 11.1 million iPads and Androidbased tablet shipments recorded 4.5 million. During the same quarter, Internet Operating System (iOS) and Android reported approximately 93.5 percent of the tablet market between them, which overshadowed Microsoft's 2.4 percent share and RIM's QNX operating system's 1.2 percent share of the market.
Cost
Cost is an issue that also must be considered when adding yet another piece of equipment to a business. Not only will there be costs associated with purchasing the tablet itself, but you'll also need to pay for the software necessary for the implementation of any enterprise software.
Tumber also states that Apple's iOS software upgrade helps the iPad adapt to most of the new advanced features, reducing the need for a new tablet device to be purchased each year. As of now, Android-based devices cannot be upgraded to the next major version due to functional limitation within the internal hardware of the device, although Tumber says that this may change in the future. Any iOS updates are also made available immediately and are free of charge for iPads.
Customization
While customization of tablets is still somewhat limited, it's something that is developing as more businesses are integrating tablets into their business operations. Apple, for instance, has a volume purchase program that enables businesses to purchase certain apps in bulk for employees, or enables users to purchase custom business apps built by third-party developers to meet particular business needs. Customized business apps may include a customized user interface with the company logo or branding, unique features or capabilities specific to a business process or workflow, extra privacy protection to handle sensitive data, or specific configuration to meet the business' server or IT environment. The minimum price for a custom business app through Apple is $9.99. However, only paid apps are available for volume purchasing, and the program is limited to businesses in the United States. Custom business apps can also be developed for Android-based tablets through third-party developers. As new specialty applications are developed, there will be more ways to do everything from booking appointments to full-scale project management.
After taking the aforementioned aspects of tablets into account, better assessments can be made regarding the risks and benefits of obtaining tablets for business purposes. As tablet use is still in the early stages, Reed says that business owners really need to evaluate whether tablets would be necessary to improve business operations.