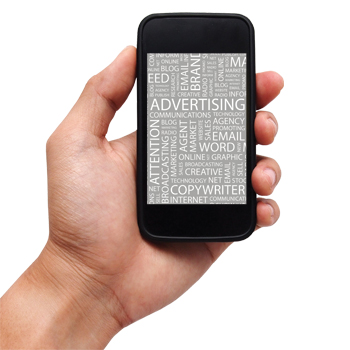 Advertising is almost as old as business commerce itself. From Old West village blacksmiths hanging up their shingles to automobile dealerships running local radio spots and offering Internet deals, nobody can deny advertising's crucial role in driving foot and online traffic.
However, these and other forms of advertising may not yield the best ROI simply because everybody's doing it. Large corporations get around this conundrum by working with top advertising agencies. The expensive talent employed by these agencies then create effective and memorable campaigns that command front-and-center attention for products that are in many cases no different from those offered by competitors.
While most entrepreneurs can't afford Madison Avenue's pizzazz and glitz, they can easily and very affordably leverage an exploding consumer marketplace literally right at their fingertips: mobile advertising.
Relatively few small business owners have even dipped a toe into mobile advertising, choosing instead to rely on buying dry print and broadcast ads sometimes re-purposed for Web campaigns. An increasing amount of sophisticated consumers are tuning out the "noise" of traditional media and advertising, focusing their attention instead on mobile media—specifically smartphones.
The smartest small business owners should follow. Why? For one thing, recent statistics indicate that mobile devices, such as iPhones and Androids, outnumber desktop computers by a four-to-one ratio—a gulf that will only grow wider with each passing day. In fact, TruthDive reports that 700,000 Android smartphones are activated daily.
What's more, according to Google research, mobile searches increased 400 percent in 2011. And according to Digital Buzz, half of all Internet searches are conducted on mobile devices. In addition, Millennial Media found that 58 percent of mobile shoppers are in the prized 18-to-34 demographic. And Spyder Trap reports that 70 percent of all mobile searches result in action within one hour.
As increasingly tech-savvy consumers earn more disposable income in a fledgling economic recovery, small entrepreneurs must make a point to have interactive mobile advertising campaigns in place. Mobile campaigns aren't any harder to create than traditional ones, nor are they prohibitively expensive. The only thing to fear, to cite one good tried-and-true quotation, is fear itself.
Wondering how to get started? A growing number of third-party developers have introduced easy-to-use platforms that allow even the most technically challenged owners and employees to use a DIY approach to craft effective and memorable mobile campaigns in-house. Because few small businesses are currently doing so, those that do are positioned to capture more than their fair share of this low-hanging fruit. Such software facilitates owners' inexpensive creation of branded website content and specialized apps including video images—without MIT-level programming or coding expertise.
As easy to use as word processing programs, these platforms include self editing features for the fast text and image content changes needed when updating marketing or sales tactics virtually in real time. Just as importantly, given the exploding growth of Facebook and Twitter, these platforms enable the integration of popular feeds for social media campaigns and the importation of data from Google Analytics and other applications.
The most advanced developers provide user support that mirrors enterprise data center operations by assuming full responsibility for managing backend architecture. Such robust support allows entrepreneurs to focus on what they do best: run their businesses. Mobile advertising app developers also optimize video for mobile screens, ensuring the right dimensions for optimal mobile viewing.
The time is right, and the reasons for small business owners to move full speed ahead are clear and compelling. Readily available and inexpensive technology renders any remaining fears or arguments against creating mobile-specific advertising campaigns null and void.