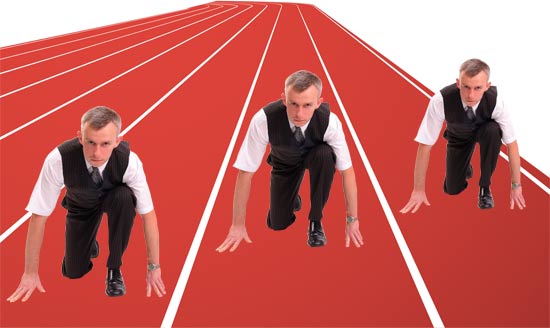 If I ever stopped to think about my "so-called" largest competitor, I would be paralyzed with fear. In the language-learning business, most consumers know only one name. That's Rosetta Stone, the publically traded, 30,000-pound gorilla of the industry. It advertises on radio. It appears on TV. Walk through an airport, and you're bound to pass by its kiosks. But here's a little secret. As the founder and CEO of Stroll, the company behind Pimsleur Approach, the number-two brand in the language-learning business, I never think of Rosetta Stone as our competition. This surprises most people.
Certainly, our business models are different, and our programs' approaches to learning differ dramatically. Yet, that has little to do with my reasoning. I don't consider Rosetta Stone a competitor to Stroll, which licenses and sells Pimsleur Approach, for one primary reason. At Stroll, our competition is only ourselves—our limitations and opportunities controlled and dictated by our internal ability to constantly make incremental changes and improvements that compound over time.
We call it optimization, and it's a process based on the ability to use business analytics to gain x-ray vision into our own operations, find new efficiencies and act upon market opportunities in real time as they arise. Optimization combines the art and science of marketing. It's a concept I founded my business on in 2000 as a senior at The University of Maryland. To be candid, it took a number of years and business incarnations to get our direct marketing formula right. During my second "pivot," sales were still stuck in first gear. I had to move back in with my parents, put in endless hours and keep everything alive with credit cards.
I realized the only way to succeed would be to leverage the few dollars at hand along with some ingenuity. I already had a custom website—which I built mostly myself—and I had access to several third-party testing and optimization tools. All I needed to do was monitor and assure an ROI on every advertising dollar invested so that I could ultimately optimize my results until I was successful. Analytics and optimization became my rallying cries—a means to lift me from my own disaster and build a quickly growing business.Fast forward 12 years and analytics continue to drive our e-commerce platform, which grew 105 percent last year and is on track to exceed 100 percent growth again this year.. Pimsleur Approach continues to be our primary product. But the power of analytics has allowed us to self-fund one of the fastest- growing private companies in the country—and can help millions of other businesses find new growth by optimizing the way they continuously improve their operations.
It all starts with our culture. We attract and train talented professionals who share a love of results and data, and can use that information to build a forward-looking financial model. That's a powerful advantage that, in essence, allows us to tell the success of an investment before it's made, reducing risk and increasing the likelihood of an acceptable return. Our people understand the power of analytics and incorporate it into their decision making, unlocking tremendous competitive advantages.
For instance, in our industry, online retail is growing between 10 and 15 percent per year, which means each year, we're vying with more and more competitors for online advertising space. With greater demand comes an increased cost. But through business analytics, we're often able to justify these costs or suppress them altogether.
How? Business analytics provide the insight into whether a pricier advertising opportunity achieves an acceptable ROI. At the same time, by constantly optimizing our entire marketing program— from the look and navigation of our website to the subject line of an email—we can improve response rates to overcome increased media costs. Those successes can have an additional benefit. By staying with an advertising medium, even if the cost increases, we can often increase our scale as other advertisers drop off.
All of these small, incremental enhancements serve to improve the overall profitability of our business. Ironically, though, profit itself does not drive our decision making. As a quickly growing business, the real goal of our strategic decision making is how an investment adds to our overall contribution margin. Simply put, think of contribution margin as the profit a single order produces. It's quite different from gross profit margin or profitability. Rather, contribution margin is what's left to pay overhead once you have the full cost of an order by subtracting all of your variable costs, such as product cost, shipping cost, advertising, etc. We view contribution margin as the single most important metric at our company. By contributing to paying our costs, and delivering a small payback as well, we optimize our business and deploy analytics to chart the course.
So while competition is a real and dangerous threat, at Stroll, we compete against no one other than ourselves. Our commitment to iterative improvement, made consistently over time, focuses on our business alone and doesn't give us time to worry about the other guy.