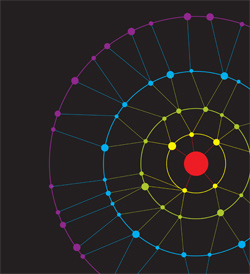 Business owners and chief executives invest much of their lives working toward new heights and aspiring to be at the top, yet they rarely consider any negative aspects of reaching their ultimate goal. When those leaders are ready to take time away from their businesses, there are few they can turn to, since many lack shared experiences and don't truly understand their ambitions and lifestyle.
Business networking
Contribution and engagement are at the heart of a successful life. Engaging and taking part makes us feel alive as individuals, and sharing success is a vital part of this. In turn, this means the more traditional, formulaic "people-in-a-room" networking approach needs to be updated. We can replace it with engaging, fun and worthwhile networking that gives executives the opportunity to reflect on their philosophies, while making business and personal encounters far more rewarding and valuable.
Many entrepreneurs and executives seek more than structured networking. Often the most enjoyable and productive forms of networking are social, combining elements of business needs with personal objectives. After all, there's no reason why these elements should remain mutually exclusive. It's important that business owners, thought leaders and executives fully embrace social business networking by identifying not only business value, but also personal engagement, fun and philanthropy. A well-rounded network helps maintain a well-rounded outlook and a vital balance for both business and social life.
At the top, social business networking is not about wearing the company shirt and practicing that "elevator pitch" until word perfect. Rather, executives gain satisfaction in sharing personal beliefs, exchanging expertise, encouraging others and demonstrating the value of diverse outlooks in engaging environments. Outstanding social networking brings together four elements: network value, personal contribution, philanthropic support and revelry.
The pillars of great networking
Network value refers to how relevant and interesting the people within a particular networking group really are to one another, based on their personal and professional life interactions. Value should never be limited to merely scanning the job titles of fellow executives and weighing their career seniority. A great sounding title means little unless accompanied by enthusiasm and rich life experiences. Often the best networking forums are those that bring together a diverse range of individuals that might not otherwise cross paths—from business moguls to prototype designers, M&A veterans to branding wizards, or just inspirational individuals who open hearts and minds.
But social business networking isn't a spectator sport. Networks can thrive or die based upon the quality of the personal contributions offered up by members. Different perspectives spur conversation and keep things interesting. A young entrepreneur who has just sold his tech startup for $500 million may have a very different outlook compared to an aristocrat with inherited mega wealth. Likewise a veteran fundraiser who travels the world seeking investment will probably think differently than a hometown hero with a burgeoning fashion empire. But if anything, that will usually mean they ultimately have more to share and learn from each other, and might have a great deal of fun discovering that productive ground. Mixing in new circles and having different experiences with fresh contacts will often make a networking community more popular, useful and enjoyable.
Mahatma Gandhi famously said, "You must be the change you want to see." There is no future in simply waiting to see if other people will make the world a better place. Change starts with each of us as individuals. Often, good networkers are those who contribute with hopes, but no expectations, about what they will receive in return. Sharing ideas, contacts and experiences will always prove more positive in the long run than a more selfish approach. Indeed, the notion of giving back or paying forward is often not only welcomed, but needed at a deep personal level for many who have reached their personal business peaks and are seeking new direction.
The best networkers are always keen to contribute back to society. There's an understanding between the majority of business leaders that their professional and personal positions are very privileged ones, and that any opportunities to share those privileges should be grasped. It's telling that many members joining forwardthinking networks with a philanthropic element are already contributing on a personal level, business level or both, to nonprofit or charitable organizations close to their hearts. Sadly, one of the biggest pressures these people experience is a lack of time. So, isn't it logical that they combine business networking, social events and philanthropy if it can be more easily fitted into a hectic lifestyle that way?
A work hard, play hard philosophy can too easily be dismissed these days as a selfish throwback to 1980s excess, but is there anything at all shameful about celebrating and reveling in success? Modern social business networking can be enjoyed in many varied forms, from meeting in VIP boxes at sporting events to spending a day laughing and mixing on a mega yacht, visiting exclusive properties, or enjoying a sundowner on golden sands. These aren't vacuous socials—they're rare opportunities for business leaders to relax, mingle and open up. Business owners, entrepreneurs and executives have often spent so many years striving without sharing that they need to be in these relaxed and fun environments to gain the most personal and professional benefit. What is good for the individual is generally also very good for the business.
Social business networking
Of course, for many people, being a great social business networker doesn't come easily. Like many other rewarding activities, it's something that requires persistence. It's about maintaining your stance and demonstrating that whether you're discussing business or personal interests, there are values that you truly believe in and feel are worth sharing with and encouraging in kindred spirits. Be genuine, show integrity and, above all, remember to enjoy yourself.