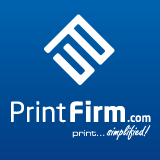 American Business Magazine strives to provide the small to medium sized business owners with the best possible tools for success. Part of our mission involves finding solutions to the unique marketing challenges of a small biz environment. Print marketing materials are an important aspect of a contemporary advertising strategy that is often overlooked by brick and mortar businesses.
PrintFirm.com, a commercial printing company in Los Angeles, CA, offered to provide a print product of our choice, so that we turned to you, our readers, to find out what would be the most useful item for your business (via our Facebook page). We appreciated all of your answers and we're are pleased to announce a custom notepad giveaway!
Personalized Notepad Contest Rules
The winner takes home 50 custom notepads with a one or two color design printed by PrintFirm.com. The winner will need to supply their own artwork with the following ink color choices: black, yellow (PMS 012), orange (PMS 021), red (PMS 032), blue (PMS 072), reflex blue, process blue, green, purple, or violet.  If the winner does not have artwork, PrintFirm.com will make a custom notepad design for a 50% less than their standard creative services fees. The notepads will measure 4.25″ x 5.5″ and contain 25 sheets of paper per piece.
The giveaway begins today, August 28th, 2013 at 2pm CST and ends on Wednesday, September 12th, 2013 at 2pm CST. One winner will be picked at random via Random.org within two days of the contest ending. Please allow five to seven business days for printing turnaround. The prize package includes complementary shipping; please note that PrintFirm.com can not ship to P.O. boxes.
Entries are limited to one per person in this online contest. Only U.S. residents may enter and all participants must be at least 18 years old. The winner will be notified via email and he or she must respond to the message within 48 hours or PrintFirm.com will pick another winner.
Best of luck from American Business Magazine and PrintFirm.com!