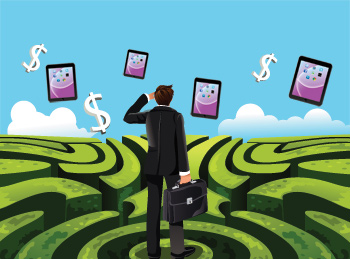 The small- to medium-size business market in the United States is enormous. Depending on how you measure it—or whose data you believe— there are five to 15 million of these businesses, with perhaps three million of them advertising on a regular basis to the tune of roughly $4,000 each annually Every year, about half of the revenue generated by local businesses comes from new clients. So, to continue to thrive, local businesses have to keep new clients coming through their doors.
These new media channels bring their own set of challenges. Most local businesses don't have in house marketing resources and lack the expertise (or in many cases, the inclination) required to navigate these new and confusing opportunities. Online searches remain the most important "new media" source of new clients for businesses. Many other new media channels contribute to the overall performance of search, but search is the most actionable way to drive business online.
So what's a local business to do? The good news is that with a little application and attention there's a great deal that can be done by working with a local service provider. If your budget is limited, your options are fewer, but a lot can be done for no cost.
Inexpensive online marketing options
Search engines
Google, Yahoo and Bing are the strongest online drivers of traffic to local businesses. Each of these search engines offers an online directory the local business can "adopt" at no cost. You can describe the products and services your business offers, including payment options, languages spoken, hours of operation, etc. You can also post pictures and videos about your company. Taking the time to fill out as much as you can about your business in the three leading directories may dramatically improve the likelihood that your business will show up in searches for your category or product.
Online directories
In addition, seek out your business in other online national directories, such as Yelp, YP.com and SuperPages and adopt your business profile for each. There are also a lot of local and specialized business directories that can help you adopt and manage your listings at a base level for no cost, with options to buy premium exposure in search results.
Before you spend any money, be sure you've adopted as many free listings as possible. The search engines look for consistent data between different listing sites. Each accurate, consistent and complete listing contributes to the business's overall performance in search.
In addition to ensuring that your business data is accurate and complete, it's important to respond to reviews from end users. Simply spending an hour or so each week to respond to both positive and negative reviews will significantly improve your search exposure on those directories and on the main search.
Websites and blogs
A web presence in the form of a website or blog can be created for very little or no expense. Remember: The goal is to establish credibility and presence in search results. There are many options and search engine optimization (SEO) techniques to drive performance in the unpaid or "organic" part of search. Due to recent changes in how search engines work, it's possible to achieve a strong presence in local searches without breaking the bank.
Video
Video offers a significant and useful channel that can also be inexpensive. Chances are the phone in your pocket is capable of recording and posting high-quality online images and videos. You can use it to record videos or take pictures of your most recent project. Simply posting them to your site, blog or online listings could significantly contribute to your online presence and new customer count.
Search engines (especially Google) are typically looking for fresh, accurate and relevant content. If you can write and/or post about your business in an interesting, or even amusing, way and regularly post your thoughts on your site, blog or Facebook, you may be shocked at how well your posts perform in search.
Fee-based online marketing options
Online bundles
It's important to note that online visibility requires a commitment from you. There are no quick fixes and switching strategies and spends every other month will waste most of your efforts. Pick a solution and stick to it for at least six months. There are many companies that offer an online bundle, which may include a website, online reputation management, social media optimization and some level of online advertising on search, mobile or social. These bundles can be of great value or almost worthless, and it's very hard to tell the good from the bad.
Perhaps the lowest budget/highest impact opportunity is represented by the online submissions services offered by data providers/aggregators, such as Acxiom and UBL. These providers will submit your critical data to hundreds of online directories. This is not a substitute to adopting your core presence on the top search engines, but it can be a low cost and highly effective addition to that process.
Next, look at a range on online bundles offered by marketing providers. The critical component you should check for is a guarantee of ROI. It's very easy for a potential provider to throw together a template-based website, video, Facebook page and perhaps a few online ads to support the campaign, with no guarantee that the effort will have any meaningful impact on your business. Before you spend a penny, think about what you want from your campaign. For example, do clicks or visitors to your web presence have any impact on your business? Would you prefer calls from potential clients? Or perhaps an emailed request for a quote would work better? Don't start a campaign without a clear idea of what success looks like to you and what each one of those responses is worth to you.
Paid search
Chances are you've noticed the plethora of online ads on your favorite search engine or social media site. It's reasonably straightforward to set up your own account with a search engine or social platform, take their online class and start bidding on clicks or impressions to drive results. It's entirely possible to drive great results at an affordable price, but it's also entirely possible for you to burn through your budget in a very short time with nothing tangible to show for your efforts. This relatively low budget local search or social marketing is notoriously hard to do well. It's a complex mixture of art and science, and learning on the job can be very expensive. Unless you're interested in doing multiple ad iterations to see what works best for your business and paying the associated cost for that testing, you may be better off working with an experienced vendor.
The beauty of online advertising is that it's entirely trackable. If your potential vendor can't commit to a result that can be measured and if those results aren't in line with your business goals, keep looking. There are many providers out there and the best practitioners will guarantee their results. They won't typically guarantee front-page search results on Google (and if they do you should be very suspicious), but they do understand what they can achieve—and at what price point—and will stand by their ability to deliver those results.
The world of local online marketing and lead generation has changed dramatically in recent years. These changes drive both confusion and opportunity for local businesses. If you're in a position to spend online, it's critical that you have a crystal clear understanding of what your money will buy and what it will cost to achieve your goals. Take advantage of as many free online advertising services as possible and work with a vendor who will guarantee their results.