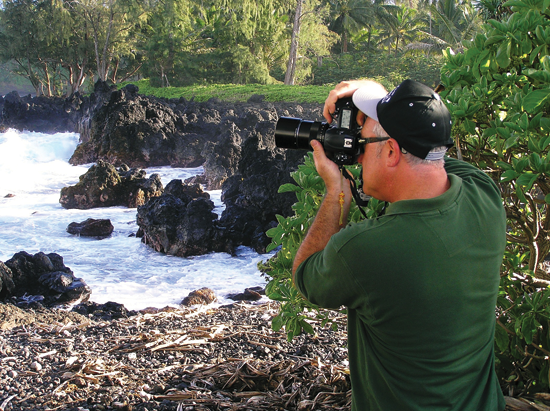 Creating a Business Niche in Maui
Many of the oceanfront hotel properties on the Hawaiian island of Maui are so beautiful that guests rarely leave their cozy confines. Maui-based photographer Brian Ross felt it was a shame guests didn't explore all that his island had to offer. Ross thought there had to be some way vacationers could connect with the side of Maui that reveals itself through photography.
For years, Ross had carved out a nice living as a destination wedding photographer. Even though his high-end photography received rave reviews from clients, Ross felt an entrepreneurial gnawing that suggested another business idea would supersede his wedding business. Ross kept asking himself, "What does Maui need?"
His aha moment was a brand new tourism niche—something completely outside the box. Ross began interacting with his network of Maui hotel concierges for feedback about his idea. He also set up a website to promote his brainchild. Ross' new business, Photo Safari Hawaii, began offering tours in 2008.
Creating a niche – eco photo tours
Ross hit the ground running in the promotion of his authentic eco-photo tours. "For vacationers looking for something unique, I show them the real Maui, the soul of Maui," said Ross. "My goal is to create a nature experience through photography."
The difficulty for Ross was describing a tour that had never been done before. In addition to face-to-face sales calls and the launch of a www. photosafarihawaii.com website, Ross hired guides with his same passion for photography and nature. These guides would tour not only Maui, but all the major Hawaiian islands.
Between curious website customers and the support from the concierge community, Ross' full-day, half-day and multi-island eco-tours began looking like a tourism business with staying power. Ross had uncovered an audience of wide-eyed vacationers hungry for photographic tips from a seasoned professional. These vacationers would learn photographic insights that would last a lifetime, while shooting Maui's treasure trove of volcanoes, tropical rain forests, waterfalls, beaches, fishing villages and sea caves.
The journey begins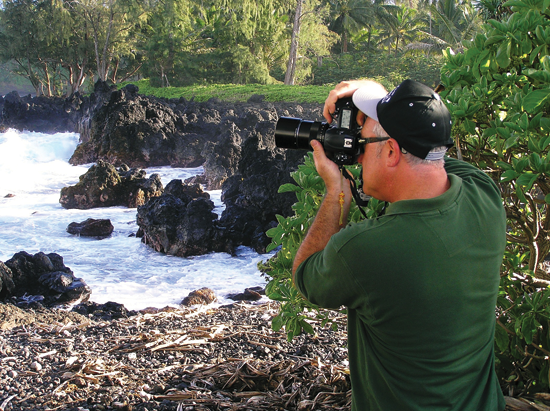 Spending a day or half-day with a Photo Safari tour guide begins with curbside pickup service at your hotel. Ross or one of his team members will arrive in a white Ford SUV with Photo Safari's palm tree logo emblazoned on the side. This heavy-duty form of transportation comes in handy when the tour chooses to go exploring off-road for one of Maui's hidden photographic gems.
On a glorious 80-degree day in November, two guests from Minnesota were greeted by Ross and the sounds of Hawaiian-native Brother Iz singing "Somewhere Over the Rainbow" on the car stereo. Little did the couple know that this song would be a prophetic hint for what lay ahead.
The couple chose Photo Safari's full-day Road to Hana tour. During this 140-mile round trip trek to Maui's eastern tip, Ross pulled back the curtains on Maui's historical and geographical highlights. The 45-year-old native of Philadelphia also revealed chapters from his own photographic life that included rubbing elbows with Beyonce during his first job in the music video industry, taking still shots of Ray Charles during a jazz festival in Long Island, and composing images of the Taj Mahal while riding on camel's back.
Spend any length of time with Ross and his passion for photography and Maui's environment becomes contagious. Ross shared that Hawaii's vowel- drenched vocabulary is something he can relate to. If you break down the word Hawaii, the "Ha" means "breath, "wai" means water and "i" means unity of breath and water. One of Ross' first lessons for his Minnesota guests was quizzing if they knew what the word photography meant. The third grade teacher in the group was correct when she responded, "writing with light."
Building local partnerships
If photography and nature rank first and second in the Photo Safari priority list, then food comes in a close third. It's evident during one of his tours that Ross believes in the power of nurturing local business relationships. For his guests, these bonds translate into sampling local taste treats like banana bread, mango bread, passion fruit and pineapple coconut ice cream.
One of the more unique food stops during the Road to Hana tour was visiting Coconut Glen's Island Remedies stand. Glen Simpkins operates from a bamboo hut just outside of Hana. For the passersby who can't help wondering about the funky hut on the side of the road, inside you'll find a New England Culinary Institute trained chef scooping original recipe coconut milk ice cream into freshly cut coconut bowls. Meeting entrepreneurs like Simpkins in the middle of nowhere is part of the unique added-value formula that Ross strove for when shaping his business plan.
Over the rainbow
More than once during the Road to Hana tour, Ross spoke of his belief that life is "more about the journey than the destination." This observation rang true after he suddenly pulled his Ford Excursion on to the shoreline of a volcanic rock beach.
Ross grabbed his trusty Nikon D-3 camera and encouraged his guests to follow. Out on the horizon a rainbow was beginning to form. Not only were the tour guests able to shoot a rugged beach landscape in the foreground, but they also saw a second rainbow began paralleling the first. Ross looked at his guests and shared, "This is the best part of my job. Every day is different."
SUV to head home, Brother Iz sang his version of Louis Armstrong's "It's a Wonderful World." It was as if Ross had tapped into his music video roots from the early days. The lyrics connected beautifully to the photographic moments that had just transpired.
It's a wonderful world
For Ross, a day spent revealing the soul of Maui through photography is a labor of love. It's also only the beginning for what he and his team of guides anticipate for 2013. Ross' photographic team will continue conducting weekend and five-day specialized Hawaii photography workshops. Ross is also excited about his newest enterprise, Extraordinary Adventures Hawaii. "Extraordinary Adventures Hawaii is an opportunity for our Hawaiian guests to choose from some of the most extraordinary Hawaiian experiences you can imagine," said Ross. "They include activities like dolphin encounters, surfing lessons and volcano hikes."
If life is more about appreciating the journey, then there is no end to what Ross' beloved Hawaiian Islands can offer tourists searching to write with light and more. Mr. Armstrong may have been thinking about Hawaii when he wrote, "And I think to myself, what a wonderful world."