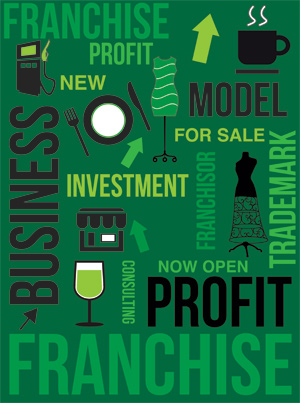 As a business owner, you're constantly evaluating growth strategies. In strong economic times, you may feel more confident in relying on organic growth—that is, through normal channels such as word-of-mouth, repeat customers and referrals, without extra and concerted effort. But when the economy continues to offer more questions than answers, the time for you to be open to ways that will deliver real, substantial growth becomes more important than ever.
There are two viable options for an aggressive growth plan: corporate expansion and franchising or licensing. Often, the franchising route is one that business leaders are hesitant to consider. Time and again, however, this strategy has proven effective for many industries.
In fact, throughout the United States, franchises sell more than $800 billion in goods and services every year. Over 550,000 individual franchise outlets exist nationally and, each working day, a new franchise opens every five minutes.
Indeed, many advantages exist for the franchisee.
Combined business experience.
The individual begins with the accumulated experience, know-how, business practices and operating plan that come from an established business, as well as significant pre-negotiated volume discounts that an independent business could not otherwise secure.
Brand recognition.
A franchisee benefits from brand recognition and a support network that provides an immediate competitive edge over the independent businessperson. What's more, franchisees hit the ground running and, in doing so, avoid a costly trial-and-error period that causes so many problems for startup businesses.
Low overhead.
Franchising requires less capital than other growth strategies, as franchising permits a company to grow with capital invested by the individual franchise owners. In addition, and especially for businesses with a strong online presence, requiring franchisees to rent office space may not be necessary, as service arrangements can be made from a home office, and inventory can be shipped directly from a central warehouse. These features help keep overhead low, making the franchising route that much more attractive.
Opportunity for expansion.
Franchising also allows a business to expand quickly. In today's marketplace, the window of opportunity for a new or unique business concept closes quickly. A well-planned franchise development program permits multiple units to be opened simultaneously, gaining the competitive edge on any would-be competitors.
With success rates around 90 percent, franchising is a proven avenue to profitability. Franchises are typically well run, as independent owner-operators are motivated to succeed, and advertising and marketing expenses are shared between franchisor and franchisee, further reducing costs and increasing profitability.
That said, much success depends upon how well a business selects its franchisees. Although subjective, finding a good fit is important throughout the franchising process. Just because all of the information offered on a preliminary questionnaire looks strong, certain intangibles can be just as important for franchise success. The franchisor and the franchisee depend on each other to ensure mutual success— starting out in a situation where one feels uncomfortable with the other, for whatever reason, will challenge the likelihood of that success.
If you choose to pursue this growth strategy, be smart and honest about your own limitations. Employ the services of a professional franchising firm or consult a law firm with experience in franchising to ensure that the plan is in compliance. In addition, do your research. Examine the market to ensure that a name can be properly trademarked, particularly as the concept expands.
With the right leadership approach and the right fit, franchising can propel a business's growth exponentially.