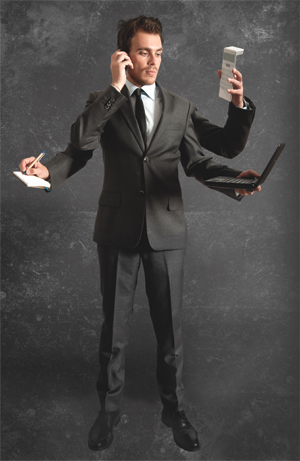 Burnout is all too common for entrepreneurs. As a business coach, I see it happen most often with new entrepreneurs. They are trying to put it all together and make it all fit. Sometimes they are still juggling full- or part-time work with a new business. Entrepreneurs have a big vision and are excited to see it come to fruition. But although they know what they want to do, they often are lacking the how. Not knowing the latter will put you on the fast track to getting burned out.
The first key that I often share with coaching clients starting new businesses—and this is so important—is to let go of trying to achieve balance. As a business owner, your work life is going to flow into your personal life and vice-versa. There is no getting around this. Stop trying to keep business and your personal or family life separate from each other. It's okay if they mix together. For example, I travel regularly on business. However, many trips include my family because in between business meetings, I make time to spend with them, dining, shopping and enjoying each other. If I insisted on keeping business trips and family vacations separate, it would be difficult for either to happen.
As an entrepreneur, your schedule will be hectic at times. There will be times when your focus has to be all business. However, the beauty of entrepreneurship is that you can make your own hours because you call the shots. You can't find the ever elusive balance if you still have a 9–5 employee mentality. If you want or need to take time out for a personal pursuit or family activity, you can. It could be as simple as getting up earlier to work a few hours before heading out with your family.
To me, true balance is goal achievement—however, you have to direct your time and attention to make it happen. Remove the picture you have in your mind of what having balance is supposed to look like. Instead, focus on productivity, and the rest will fall into place.
Use goal cards to stay focused and be reminded of what you are doing and why. Frequently writing and reviewing your goals, meditating daily and speaking positive affirmations will keep you motivated. The only reason you don't have everything you want is because you haven't set a goal for it. When you start setting goals, you will get faster results in your business.
Another key element to prevent burnout is organization. It is the key to maximum productivity and the biggest secret to reducing work-related stress. Lack of organization will lead to frustration quickly. On the other hand, when you have order, you'll feel more in control and confident throughout your day. Use lists to keep everything on track. Living by a list will help you get more done. It will help you to prioritize your tasks and your time, so you can ensure you are focusing on the most important tasks first.
Journaling is a creative release that can prevent burnout. Keep different journals: for ideas, for general notes, for your lists, for reflection, and to track your progress. It is good to spend just a few minutes in the morning or at night writing down your thoughts to clear your head and to plan for the next day. Journaling at night may help you sleep better. You can rest well without nagging feelings of unfinished business or looming projects swirling around in your head. Simply drain your brain on paper, sort through your ideas, create plans, and when you're done, close the book.
Stay on the hunt for new information to refresh your mind and inspire new ideas. Look for books on topics that pertain to your business or areas that can help improve your skills. Seek out journals, magazines, and blogs for current information that interests you.
To prevent burnout, you have to guard your thinking. It's important to maintain a positive attitude and outlook. Sometimes when you're working hard, you can lose sight of the big picture. Don't sweat the small stuff—instead, stay focused on your company's overall mission and vision. Don't micromanage, over-think, or over-analyze. Make decisive decisions that will propel you forward. Don't dwell; just keep it moving!
Once you have these internal things in check, you can focus on the external and preventing burnout in other ways. Allow yourself time to play by taking time out to do what you enjoy. This type of release will refuel your energy, give you new ideas, and keep you refreshed when returning to work.
Your health is important. Eating well and exercising should be a part of your lifestyle as an entrepreneur. The better you feel, the better you can run your business.
Avoid getting stuck in a rut. Change up your daily routine and environment. Get out of the office for something new. Take your laptop to the bookstore or café and work. The change of scenery will likely spark creativity and give you a boost of energy. You'll also open up opportunities to meet new and exciting people.
My last tip for preventing burnout is to get a coach. A coach can create shortcuts to success by guiding you and helping you avoid pitfalls. A good coach also challenges you to succeed on another level and challenges you to upgrade your thinking. This kind of accountability can help you progress with energy and excitement.
When you're feeling overstretched or overwhelmed, take a moment to breathe and think. Implementing these principles little by little into your daily routine can keep you going strong, excited about achieving your goals, and growing your business.