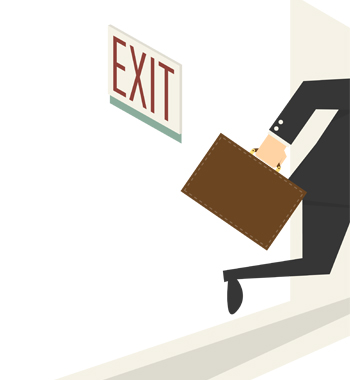 For business owners, acknowledging that they will have to leave their companies at some point is usually one of the hardest issues they'll wrestle with. All owners will exit their businesses at some time, either leaving vertically or horizontally. While it's true they can't always control when and how that happens, they can be better prepared with a solid exit strategy in place.
Given that owners of small- to medium-sized businesses work the majority of their lives creating and fostering what is typically the largest asset they will accumulate, why do so few of them plan effectively for the transfer and protection of this significant asset? Hard-charging business owners are great at growing their companies and are often laser-focused on managing their employees, assets, operations, and revenues from month to month. However, many often avoid the notion that they might not be at the helm of their organization forever.
Many Business Owners Are Simply Unprepared
A number of surveys show relatively few business owners, only between 5–30 percent, have done any type of exit planning. Whether an owner takes a business public, decides to sell it, chooses to retire, turns it over to the family, or, under the most unfortunate of circumstances, becomes disabled or passes away, exiting a business can be a very sensitive topic. However, avoiding the inevitable can lead to lost opportunities and unexpected results. Executives without solid exit strategies could face both financial and legal consequences as well as significant tax bills. In some instances, without careful planning, they can wind up with less than half of the purchase price in the bank after all taxes are paid.
The Time is Now
Most business owners create their companies upon the advice of their accounting firms at the time of start-up. Unfortunately, most never revisit the structure of the business entity to evaluate whether it allows for the most effective transfer at the point when the owner would retire, sell, become disabled, or pass away. For owners without an exit strategy, the time is now to start that planning. In order to truly maximize a company's value, owners will need to develop a longterm plan―one that allows enough time to make the necessary changes within the business to help drive the metrics that actually create value.
Developing an exit plan in and of itself is a fairly quick process. It's the implementation of changes that takes time. Exit plan development often requires only one or two meetings with an accounting firm, then getting other appropriate advisors involved as needed. The initial meeting involves working closely with owners to understand and solidify their goals—not only for the business, but also for their families. The next meeting focuses on evaluating where the business stands currently, defining the difference in value between now and the potential trigger date, and discussing changes that need to take place to meet the owner's goals.
Tips to Help Business Owners Prepare
It's important to understand that there are no cookie-cutter approaches. Each business and family has unique goals. However, there are seven key questions business owners need to be prepared to answer during the planning process:
When is the desired exit date?
What is the value or income stream the owner needs/wants from the business?
To whom (i.e. family, employees, third parties, etc.) does the owner prefer to transfer the business?
How is the business organized or structured (i.e. C corporation, partnership, etc.)?
What are the contingencies that might impact business in the next several years?
Are the exit goals truly realistic?
Has a team of advisors (i.e. legal, tax, investment banking, insurance, etc.) been identified with the expertise within the company's specific industry to bring value to the transaction and maximize monetary benefits?
An exit plan should be flexible enough to weather the unexpected but should also be built to address as many worst-case scenarios (i.e. economic downturns) as possible. Once an exit plan has been developed, it should be revisited yearly to make sure that goals or circumstances have not changed.
Exit Plan Success Is Measured by Peace of Mind
Success is measured by the peace of mind that comes from knowing there are plans in place that will result in maximizing the expected benefits during business owners' lives—whether for them personally, their family, community, or possibly all of the above.