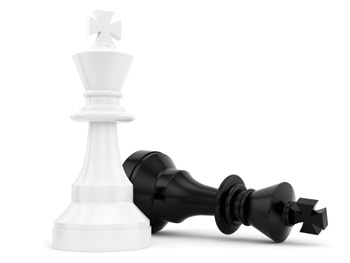 You can have the best strategy on the globe and not achieve your expected results. Occasionally companies operate successfully with little thought to strategy. A great product or service launched at an opportune time can generate tremendous success. With rare exception, this rocket launch will be followed by a plummeting decline, as there are no substantial underpinnings to sustain the trajectory. Sustained profitability requires both a well thought out and differentiated strategy and even more importantly – a comprehensive and effective implementation.
Often I advise executives when they are not achieving the expected results following a carefully deliberated strategy. In these situations, by turning our attention to implementation, we make tremendous gains. This article outlines the steps to evaluate your strategy and to achieve a highly successful implementation.
Assess your strategy against the following components of a differentiated strategy:
Readily identifiable alignment to the vision.
A primary point of differentiation–products, services or customer relationships
One strategic lever, e.g., growth; profitability; brand; supply chain
Both realistic and aspirational
About one quarter of the time, the strategy is lacking. In the majority of cases, implementation is flawed. Implementation trumps strategy.
Five hallmarks of the most successful implementations:
Clarity, consensus and alignment
Transparent targets with milestones
Leading and lagging measures
Specific actions for employees at every level of the organization
Practice of accountability (what I call Feet to the Fire)
Clarity, consensus and alignment
Over the past several years, TD, a Canadian bank, has expanded their business into the US more rapidly and more successfully than any of their Canadian peers. They had a clear growth strategy, not easy to execute but simple to understand. As well, growth was aligned to their vision and they established consensus at the executive table and in the boardroom. Resulting plans were linked directly to growth targets.
Do you think it's most important that the executive team understand and implement your strategy? True but that is not enough. In companies successful over the long term, almost every employee understands how their choices, decisions and actions are tied directly to the vision. Every customer interaction provides the opportunity for a moment of truth. When your employees understand their role in implementing the strategy, you become unbeatable.
While conducting business in Florida recently, I stayed at the Palm Beach Four Seasons. Canadian Isadore Sharpe opened his first hotel in 1960. From its inception, providing excellent service has been the driving force. Application of this consistent strategy by engaging all employees has contributed significantly to ROI. Travel and Leisure rank the 98 luxury hotels among the highest in the world. Fortune magazine has ranked Four Seasons one of the "100 Best Companies to Work For" since the survey's inception in 1998. In 2015 Four Seasons was recognized for having one of the lowest employee turnover in the hospitality industry.
When you engage the hearts and minds of your employees, to execute your strategy, you win on multiple fronts.
During my stay, every staff member I interacted with called me by name. My needs were anticipated and acted upon before I identified them. When I checked in and indicated it was my first visit to their facility, the front desk person came from behind the desk and walked with me to provide a layout of the hotel. Housekeeping placed a bookmark in my open book and a reading light beside the bed. The concierge learned that a business associate was celebrating a birthday and called ahead to a restaurant, offsite, to arrange for a special dessert.
Transparent targets with milestones
I worked with a prominent retail organization that very effectively executed on their strategy. They implemented practices similar to those at Four Seasons. Goals were established for every region in the country. These goals and the progress against them were published widely. Targets were established for every metropolitan center and rural district, every retail location, every call center and every employee. Results against targets were reviewed as follows: monthly at the executive level, bi-weekly for all middle management, and weekly for all front line staff. Employees in customer facing roles had visibility to their results daily.
Leading and lagging measures
Leading measures provide timely indicators. An increase in housing starts indicates a strengthening economy. An increase in safety incidents or production downtime heralds a decline in revenues. When you act upon leading indicators, further leveraging positive results or resolving performance gaps, you can influence future results.
We implemented these with great success at an oil and gas giant. After rebuilding their strategy, we established their 5-year goals in 3 key areas. We then established at least 2 leading measures for each. Now in year 3, they are very disciplined in their execution. If leading measures indicate they are not trending as planned, they are able to take action much more quickly and only where required.
Specific actions at every organizational level At least once every quarter, every employee discussed their results with their leader and created action plans for further leveraging what was working and attending to gaps in performance. We held action plans to no more than 3 – every quarter and at every level – including senior executives. Of course the executives had larger scopes of responsibility but by being held to only 3 actions for improvement or sustained performance for their strategic business unit, the executives could focus their conversations, their activities, and their coaching of direct reports, to the 3 areas.
Practice of accountability
Even a well-formulated strategy accompanied by characteristics of alignment, clarity, targets and actions will stumble and performance will lag without clear accountability. In the example of Four Seasons, each employee understands that he or she has responsibility and accountability for customer satisfaction. An accountability culture starts at the highest levels of the organization. The president holds his leaders to account—for delivering results, for behaving in ways that demonstrate integrity and alignment to the organization's espoused values.
A global property management firm engaged me when they were disappointed with inconsistent results. We discovered very quickly that in some countries, as long as employees delivered great results, poor behaviour was given a blind eye. This sanctioned behaviour generated great revenue for a few years but the best sales staff grew disillusioned with the executives and left the organization, often taking their best customer relationships with them. In fact results suffered in advance of employees leaving as their disillusionment was a distraction, effecting service and profitability.
The best leaders exemplify personal accountability. They hold their direct reports and all strategic business units accountable. When individuals are not achieving targets, or are doing so while neglecting corporate values, leaders of the best-run companies take disciplinary action without delay.
Sustained corporate performance results from deliberate and skilled execution of a well-defined and differentiated strategy. Assess your strategic implementation against the hallmarks listed above. Select 1 or 2 of the hallmarks that will generate the greatest improvement most quickly.