American Business Magazine recognizes business owners who are
succeeding in challenging economic times
Announcing American Business Magazine's
Business of the Year
Nominees for 2011

Cliff Mohling
Pospisil Painting
Painting Contractor
Bonnie Knopf
Intrepid Plastics Mfg.
Plastics Manufacturer
Dan Florence
Aerospace Engineering & Support
Manufacturer
John Craig
Craig Independent Tire
Retail Tire and Service
Greg Peak
Empire Solutions
Refractory Construction Services
Alan Christensen
Concrete Coatings
Manufacturer of Decorative Concrete
Steve Marshall
Peloton Cycles
Bicycle Retailer
Larry Jeffords
Jeffords Steel and Engineering Company
Steel Fabricator
Stuart Bitterman
Bitterman Family Confections
Candy Manufacturer
Doug Mullins
Douglass Enterprises
Windows and Doors Distributor
#3 Bitterman Family Confections
In 1865, Marcus and Sara Bitterman married in St. Louis and moved to Kansas where they opened a business selling supplies to settlers heading west on the California and Oregon trails. From those early business roots would spring Bitterman Family Confections.
In 1936, Bernard Bitterman, Marcus' grandson, inherited a route for "penny peanut" machines on the street cars of Kansas City, which would expand to become Bitterman and Son in 1956. This business would bloom into Bitterman Family Confections under the direction of Bernard's son Alan, who was then joined in the business by his wife Marilyn and two children, Stuart and Leslie.
Bitterman Family Confections grew to become a well-established wholesale distributor of specialty confections, offering an expansive product line of both seasonal and everyday candy merchandise, including customized packaging.
In the late 1970s, Leslie Bitterman established a business relationship with Hallmark Cards, Inc. that continues to thrive today. Over time, Bitterman Family Confections became the primary supplier of custom candy product programs for Hallmark Gold Crown stores, and the company continues to work closely with Hallmark's creative staff to develop both unique and appealing candy products for their stores.
But, like so many family run businesses that survive from one generation to the next, business issues and family dynamics often put the company at risk over the long term. Bitterman Family Confections was no exception.
Maintaining the tradition of a family name in business is often a valuable asset. However, maintaining a tradition of doing business the old-fashioned way can often become a liability when those traditional methods are surpassed by more sophisticated strategies.
Many of the business methods used by Bitterman Family Confections were passed from father to son, from one generation to the next, including methods for product pricing. As business conditions changed, and the price of materials increased, Stuart found himself in a pricing quandary where he was not pricing his products correctly to ensure the profitability of the company. Moreover, Stuart was reluctant to raise prices for fear he would lose his largest customers, including Hallmark, whose sales drove the company's revenue. However, he needed to raise his prices to cover the rising cost of candy and packaging supplies to be profitable. Feeling the weighty responsibility of keeping the legacy of Bitterman Family Confections alive, Stuart and Alan mortgaged their homes and the family stopped taking paychecks to keep cash in the business so it wouldn't fail.
Over time, Stuart and Leslie came to realize that what they needed to make their candy business successful was the professional help of an outside business expert. So, they brought in a team of management consulting professionals to break down their costs for all the candy, overhead and desired profit to correctly price the products and ensure a profitable company.
With the help of an outside business expert from a related entity of Corporate Business Solutions (CBS), Global Resources (GR) and GPS, Bitterman Family Confections got back on track with a new cost and pricing structure to match its costs and generate a profit. Moreover, it had a partner to help initiate needed price increases to its biggest customers.
However, running a family business over time involves more than simply managing costs. Managing family relationships is just as critical to the long-term success of a family business as managing its costs.
Most family run businesses are challenged by the personal dynamics between family members. While all family members want the company to succeed, it can't succeed if every family member has a different perspective on how that should be accomplished. Moreover, unlike a non-family business that has a traditional organizational structure with a clear chain of command, a family run business is often burdened by good intentions gone awry when business decisions are dominated by family dynamics.
While many companies fail to successfully meet the challenges of the internal family dynamics within the business, Bitterman Family Confections succeeded by bringing in a seasoned business expert. This business expert brought with him the power of an objective, third-party point of view. Stuart and Leslie knew the value outside experts could provide, as they previously helped to break down their costs and develop a proper pricing structure. Now, they decided to use the same successful strategy to diffuse the internal tensions that are all too common when running a family business during challenging economic times.
The management consultant Stuart engaged created a new, positive culture for Bitterman Family Confections by working through the family dynamics for a positive result among the key family members. In addition, the consultant developed a new set of metrics to manage the business more efficiently, productively and profitably.
There is no doubt that running a family business is never easy. But, as the experience of Bitterman Family Confections has shown, the use of the right outside business experts can bring about a sweet result.
#2 Craig Tire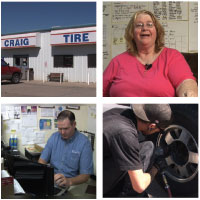 John (JR) Craig was thrown into running the family business when his father died unexpectedly. When JR took over the business, he had the benefit of a solid reputation that his father had built for Craig Tire Co. in two communities south of Albuquerque. Craig Tire is known as an honest and reputable auto service and tire store. In addition to the individual walk-in customers who put their faith in Craig Tire, the company has developed a strong reputation with commercial customers.
Originally known as Craig Independent Tire to differentiate it from the national chain stores, the first Craig Tire store opened in Belen, N.M. in 1981. As a result of the success enjoyed in Belen, Craig Tire opened a second location in the Peralta/Los Lunas area in 1993. This year, Craig Tire is celebrating its 30-year anniversary!
Many entrepreneurs in the auto service business look to affiliate with a national brand to meet the challenges of doing business with a more educated class of consumers. Craig Tire's owners strayed from this trend by carrying several brands of tires to meet the needs of customers. The only constant in their inventory has been Michelin brand tires.
While many family businesses proudly equate their success with the second generation of family members who run the business, JR defines his success by the second and third generation of customers who have been loyal to Craig Tire. Those at Craig Tire proudly proclaim: "We offer honest, professional service at a fair price. We have many families in New Mexico who are third-generation customers—their grandfathers and grandmothers were customers of ours, their children are customers of ours and their grandchildren are customers of ours. With hard work, we will continue on with customers of new generations. That makes us feel really old, but it also makes us feel like we must be doing something right!"
It takes more than a solid reputation to keep a business successful and profitable over decades of doing business. JR learned this the old-fashioned way. The tire business is always in a state of transition—and a business owner must put in a great deal of effort to stay ahead of the curve.
While JR grew up in the business, Craig Tire in Belen had been run by his father for more than 25 years. In 1999, JR took over at the Peralta location. John Craig Sr. stored much of the needed information on what it takes to run a business in his head. However, JR was forced to make a quick transition from one generation to the next when his father died. He was on his own when it came to figuring out how to manage two locations and learn everything he needed to know to keep the family business moving forward.
Like so many other second-generation business owners, JR was trying to run his father's company the way his father had run it. However, as his mother Carolyn Craig, cofounder of the business, said "JR was doing it without his father's 37 years of experience in the tire and automotive industry." As the original business name "Craig Independent Tire" implies, JR was cut from the same cloth as most entrepreneurs, with more than one strong "independent" thread.
JR faced a challenge all too common. He questioned who to turn to for help when running the business becomes overwhelming. The fact that John Craig Sr. had a very unique customer approach made taking over the business a unique proposition. JR needed more than the solid reputation his father left him and the insight that Carolyn provided to ensure the continued success of Craig Tire.
The first step to solving a problem comes when the business owner acknowledges that a problem exists. JR had to overcome his own skepticism about accepting the help of a management consulting company. Moreover, he had to overcome his fear of bringing in an outsider to help him preserve the legacy left by his father while building a modern management system for Craig Tire. JR knew he had to make the transition from managing by observation and total immersion in the operation to managing by information. The business experts from a related company of Corporate Business Solutions (CBS), Global Resources (GR) and GPS were brought in by JR to help build the management systems he was lacking, as well as maximize his ability to manage Craig Tire for long-term success.
Though hesitant at first, JR began to see the benefits of a new management structure custom-tailored to his business. One invaluable tool installed by the consultants was flash reporting, which JR said, "gives me all the critical information I need to run my business on one flash report, whereas before I had to go to multiple sources to get needed information." He continued by saying, "I look at the flash report every Monday morning. It tells me where I am for the week, for the month and for the year. By establishing goals for my business and using information from my reports, I can gauge where I am and where I need to be, which has made my life a lot easier."
By having all the critical information he needs in order to make intelligent decisions about his business, JR is, for the first time, truly in control of Craig Tire. The benefits he received from professional restructuring were much greater than JR first thought. He not only saved the legacy of his father, but JR took control of his own destiny, as well as the destiny of all of the employees who help carry on the Craig Tire tradition. Now, the company built by JR's father is truly JR's company!
#1 Jeffords Steel and Engineering Company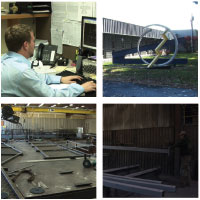 Like so many other entrepreneurs, Larry Jeffords started out working for someone else. In his case, it was a well-established steel fabricating company where he was an engineer. And, like so many others who have the DNA of an entrepreneur, he had big ideas to grow the company he was working for. But while the current owners knew how to bend and fabricate steel into any shape needed by a customer, they didn't know how to fabricate a growing business. Moreover, they lost the drive to continue to build a business, which defines an entrepreneur. They had become content with the status quo—a dangerous frame of mind for business owners who face a constantly changing business environment.
After doing all he thought possible (without much success) to improve the company under the existing ownership, Larry decided it was time to leave the security of a steady paycheck for the rewards of building his own business.
Larry and Judy Jeffords started Jeffords Steel and Engineering Company in 1985, building the company on Larry's skills as an engineer. But while Larry knew the importance of developing detailed drawings for steel fabrication in a construction project, he didn't have a detailed plan for managing and growing his business. Larry soon found himself wearing all the hats. He created the drawings, supervised the fabrication of the steel and managed the books. And when the day was done, he was often the maintenance man doing whatever was necessary to keep the business running, including picking up a paint brush in the after hours to paint what was needed.
But the key to Larry's success was an instinct he had that many entrepreneurs often lack. Larry knew he needed help and brought in a team of management consultants to develop a management plan for the business. The business experts from a related company of Corporate Business Solutions (CBS), Global Resources (GR), GPS and Strategic Tax Advisors (STA), showed Larry he would never be able to grow the business if he didn't create a new management structure with designated managers accountable for different functions. Moreover, this new management plan developed by the consultants created budgets based on percentages rather than dollars. This new concept taught Larry the benefits of using managerial accounting to manage his business versus the tax-based accounting CPAs use to keep the books straight.
Ironically, this new structure gave Larry more control of his business while also giving him more free time. For the first time in his life, he experienced the "magic of management." Now it was time for him to be the management magician and pull several rabbits out of the hat of Jeffords Steel.
Larry was now free to grow the busines — and grow it he did! With the new organization plan in place, Larry set out to implement many of the ideas that were blocked at his old company. He expanded geographically to compete for more business, and he opened a service center where walk-ins were welcome.
The service center could tackle everything from designing and building parts for local contractors to creating a custom steel part for a local farmer whose equipment broke down in the field. The service center at Jeffords Steel became a one-stop shop for cutting, bending, welding and all sorts of other customized fabrication projects for anyone from a homeowner or farmer to a business or industry.
Several years after the first consulting project, Larry followed his own instincts and brought back the team of management consultants to improve the profitability of his new profit center. The team developed a set of metrics to include all the costs and pre-planned profit that could be changed as quickly as an engineer uses a slide rule. As the business grew, the profits also grew since Larry now had the tools to manage the critical variables in his service center to maximize his profit, not just his revenue.
He built a first-class business with a superior management structure. In the company's first year of operation, Jeffords Steel did a million dollars in revenue. In 2010, Jeffords Steel did $20 million in a down economy. (By the way, the company Larry used to work for that was set in its ways, and not interested in Larry's ideas on how to grow the business, went out of business.)
Larry has developed a company with a reputation for quality construction and a back office shop of skilled engineers and technicians. Jeffords Steel has been involved in many demanding projects, including a construction project for the University of Vermont. In the future, Larry is looking to grow his business by expanding across the border into Canada.
To maintain a high level of quality, everything that goes through the shop first goes through Jeffords Steel's engineering department. The engineering and detailing division is state of the art, completely computerized in SDS, RAM structural system and AutoCad, and run by college-trained technicians. The detailing staff receives ongoing education in all the new technologies. Jeffords Steel takes pride in the fact that all of its projects are carefully engineered to specifications and codes. Design-build is the Jeffords Steel specialty.
Jeffords Steel has built a structural and ornamental steel fabrication division that is now at the center of construction projects throughout its service area. The company has invested in a new computer-controlled beamline system to fabricate steel with unmatched speed and efficiency holding down costs for its customers. Jeffords Steel has developed a solid reputation for its on-time delivery to a customer's job site. In addition, Larry makes sure the company's reputation for attention to detail has been drilled into the work ethic of every employee so the customers can count on Jeffords Steel to keep their projects rolling on schedule with the type of service customers need to achieve their own success.
However, with all Larry's success in building a company, there was one more thing he knew he needed to do. With the help of outside management consulting experts, Larry had built a company that would last, but he also knew the larger his company grew, the greater the risks for a lawsuit. So, once again, Larry brought in outside experts to advise him on strategic tax planning, estate planning and asset protection strategies.
"When it comes to your family, it's always wise to have a second set of eyes look over things," Larry said.
What he found from this outside, objective point of view was that despite his insurance, he was vulnerable to losing everything in a lawsuit if he didn't develop an asset protection strategy. The legal experts at STA developed a multiple-entity strategy to separate various operations of the company into separate corporations. Not only did this expertly devised plan give Larry the peace of mind he deserved as a business owner, but the new company structure reduced his insurance costs. His insurance company could now clearly see the separation of risks from his various operations inside the plant to the trucks delivering the steel in several states.
With the help of professional management consultants and legal experts, Larry has been able to turn his dream into reality. The motto of Jeffords Steel is "built to last," and Larry has done just that—built a company to last.
Twenty-five years later, he is enjoying the benefits. Today, he gets to take more time off and play more golf. Why? Because after he learned how to better manage his steel business, he had more time to work on his irons! We expect Larry will be driving to the green for years to come.