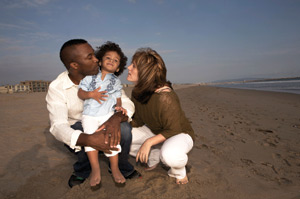 Urban Bratz, LLC was the brainchild of former art director/designer and boutique owner Heather Daniels, an Illinois native. After years designing movie posters and theatrical campaigns in Hollywood, for studios such as Universal and Warner Brothers, as well as working on numerous design projects for corporate clients, Daniels decided to leave the rat race behind after the birth of her first son. Daniels embarked on a new journey—the path less traveled, so to speak. She opened a children's boutique called Lyon's Den (naming it after her son Lyon) in Deerpark, Ill. Soon after, the economy crashed and customers stopped purchasing the high-end designer items that her store offered. Like many other small business owners, Daniels was left with no choice but to close up shop.
In the spring of 2009, Urban Bratz was formed. Taking the branding, design and marketing experience Daniels learned while working in the advertising industry, and combining that with the boutique and clothing industry experience she gained by running Lyon's Den, she was well-equipped to start up her own brand.
Since its formation, Urban Bratz has been featured in many magazines, including the most well-known industry trend magazine, Earnshaw's. Earnshaw's is distributed to boutique owners across the country and is a sponsor of the largest children's gift and apparel tradeshow in the United States, known as the ENK show in New York City. Products are currently carried in over a few hundred boutiques and specialty department stores, such as Halls Department store in Kansas City, which is owned by Hallmark Gifts and celebrity hotspot Kitson in Los Angeles.
Urban Bratz products are also carried in stores around the world, including Stomp Stamp in Japan, Maizen Maison in Malaysia, Little Toes in Indonesia, De Kunstboer in the Netherlands, TNT Department store in Canada, Fenwick Department store in the United Kingdom, as well as numerous department stores in Australia.
Urban Bratz offers sizes ranging from infant up to size 6/8 and retails in the U.S. for approximately $24 for tees and $22 for infant onesies. Daniels adds new designs to the Urban Bratz lineup every season to stay competitive. The company currently has approximately 36 tee-shirt and infant onesie designs for sale, which can be viewed on its Web site at www.UrbanBratz.com.
However, there are a few Urban Bratz classic bestsellers that stand out from the rest and have become synonymous with the Urban Bratz brand. These specific products have helped the brand grow quickly and include the company's most popular design entitled "Sorry Boys, My Daddy Says I Can't Date 'Till I'm 30," as well as another entitled "I Like Shiny Things Just Like Mommy."
Just ask Mario Lopez, the TV personality who has been on Dancing With The Stars, as his own baby daughter Gia has been known to wear the Sorry Boys shirt. The Urban Bratz Sorry Boys design has been featured in more than 100 articles. Even Kitsel.com, a well-known online children's boutique that has been featured in Pregnancy & Newborn Magazine, US Weekly and OK Magazine with over 200,000 page views per month, features the Urban Bratz Sorry Boys design as a bestseller on the front page of its Web site www.Kitsel.com. Samantha Rosenberg, owner of Kitsel, LLC, states that all Kitsel customers associate this shirt with Urban Bratz.
In fact, the Sorry Boys shirt is so recognizable by consumers that it's been nominated for Earnshaw's 2011 "Earnie" award for the Best "IT" product category for a brand.
Urban Bratz is proud to have worked with professional photographer and UK native Heidi Laughton to shoot the company's current line of childrens wear. Heidi is a former creative director for Sony music in the UK. She has also worked with top international recording artists overseeing music video shoots and has shot for companies such as Enterprise, Keen footwear and Playstation, to name a few. Her portfolio can be seen at www.HeidiLaughtonPhotography.com.
"It's really fun shooting for a clothing brand that has such a unique, fun style such as Urban Bratz does," Laughton said. "They have designs that are not just cute graphics, but are memorable and lasting. People see the Sorry Boys shirt and say, 'Hey that is from that cute kid's brand Urban Bratz.' It has really become their brand's calling card and I am proud to have been a part of that," Laughton said.
Urban Bratz is showcased across the country in well-known showrooms that buyers, such as Julie Pangborn of Halls Department store, frequent. Julie says that one of the reasons she ordered the Urban Bratz Sorry Boys style at Hope's Chest in Dallas, Texas, was because she saw it featured in Kid's LA Magazine in connection with the Urban Bratz brand. Hollee Hannon, owner of Hope's Chest in Dallas, says the Sorry Boys style is one of their bestsellers and was on display in the front of the showroom so buyers could see it immediately.
Teacup Tots is another distributor in the Southwest offering Urban Bratz products. Owner Heather Rubino said all of their showroom customers associate the Sorry Boys style with the Urban Bratz brand, which really helps the company get new business.
Manuela Trombetta represents Urban Bratz in the UK and states she was able to get the department store Fenwick to order from Urban Bratz, as they were familiar with the Sorry Boys design and believed it to be a unique item from the United States.
Lastly, Nicole Mclver of Wholesale Baby represents Urban Bratz, along with 35 other children's brands from around the world, down under in Australia. She says Urban Bratz is especially known for its Sorry Boys style with Wholesale Baby's customers, which is pretty amazing considering Australia is across the globe!
It doesn't stop there: Daniels and Urban Bratz plan to continue to grow and add more designs, products and showrooms to its roster. You can continue to check the latest news and updates at www.UrbanBratz.com.
Finally, Daniels has some advice for other moms who are thinking about starting a small business. "When life throws you a curve ball you gotta just keep on truckin'," she says. "Everything happens for a reason; no success in life is permanent nor any failure. Do not conform to what you think people expect you to be. Do what makes you happy and follow your heart. Life is short, so you may as well be doing something that you love," Daniels said.